I'm sure you've seen them at the thrift store, those round vases for $2 or less? Well today I'm sharing how to update a thrifted vase with cane. I saw one at a high end garden store and thought, wait, I have leftover caning material from a previous project.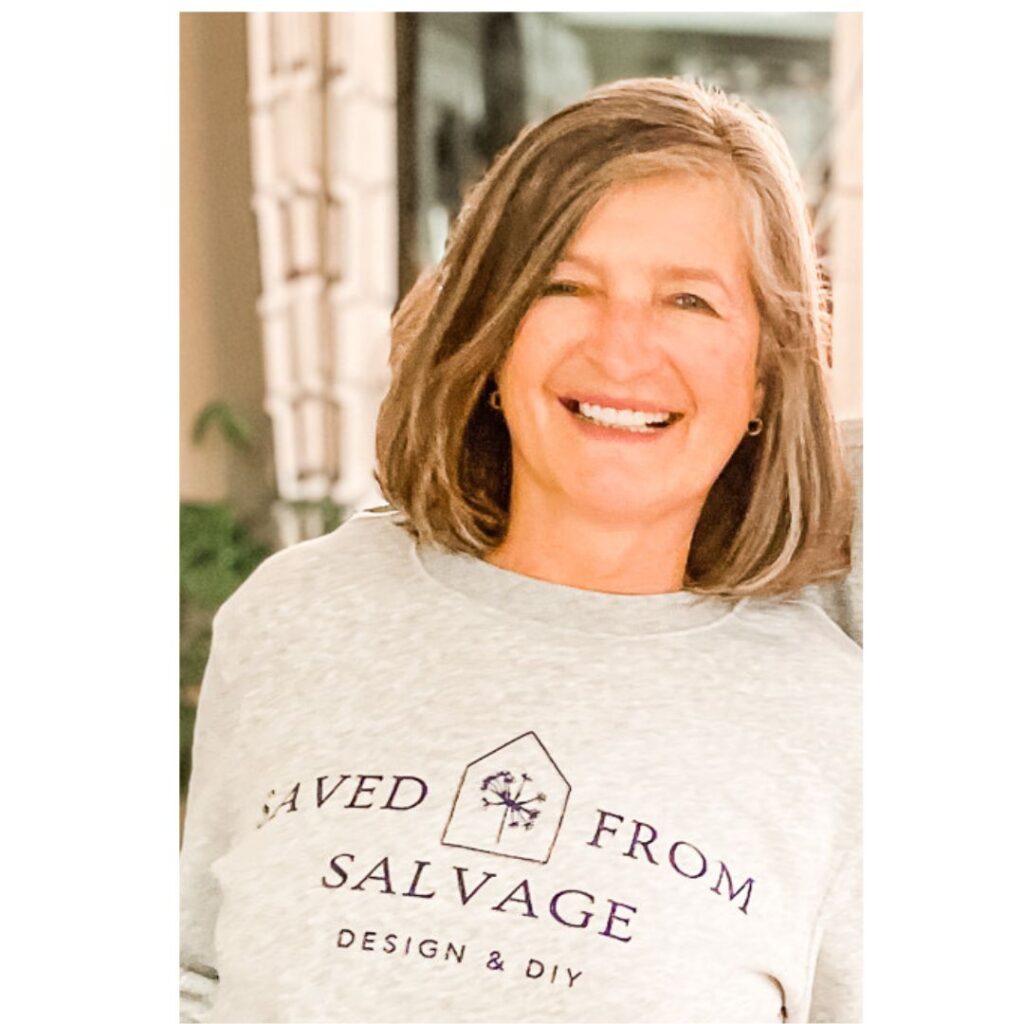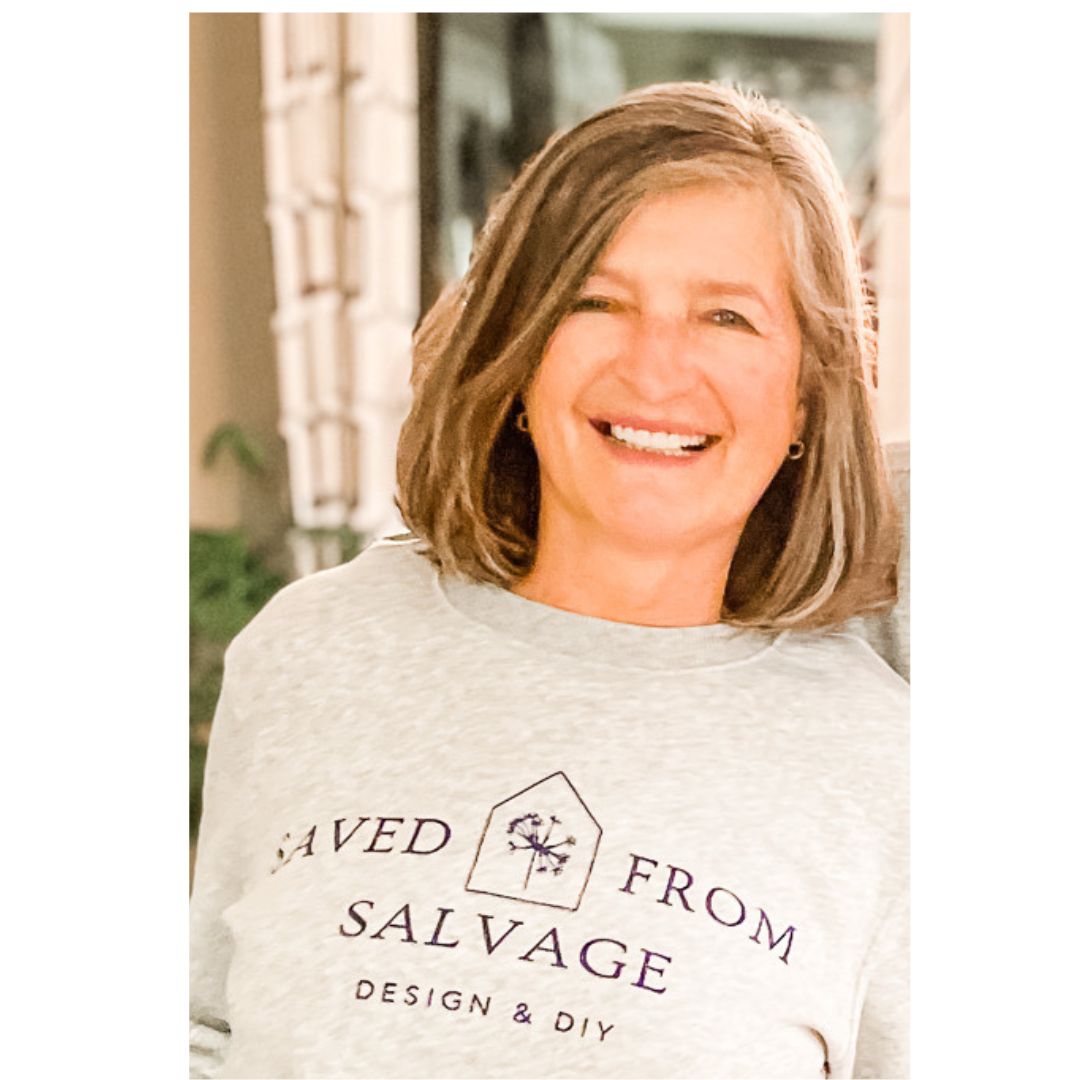 Hi, I'm Regina and this is Saved From Salvage. I dig things out of the trash but in addition to that, I love to share DIYS, furniture flips, tablescapes and event inspiration. I'm so glad you are here.
This has to be the EASIEST DIY ever.
VASE INSPIRATION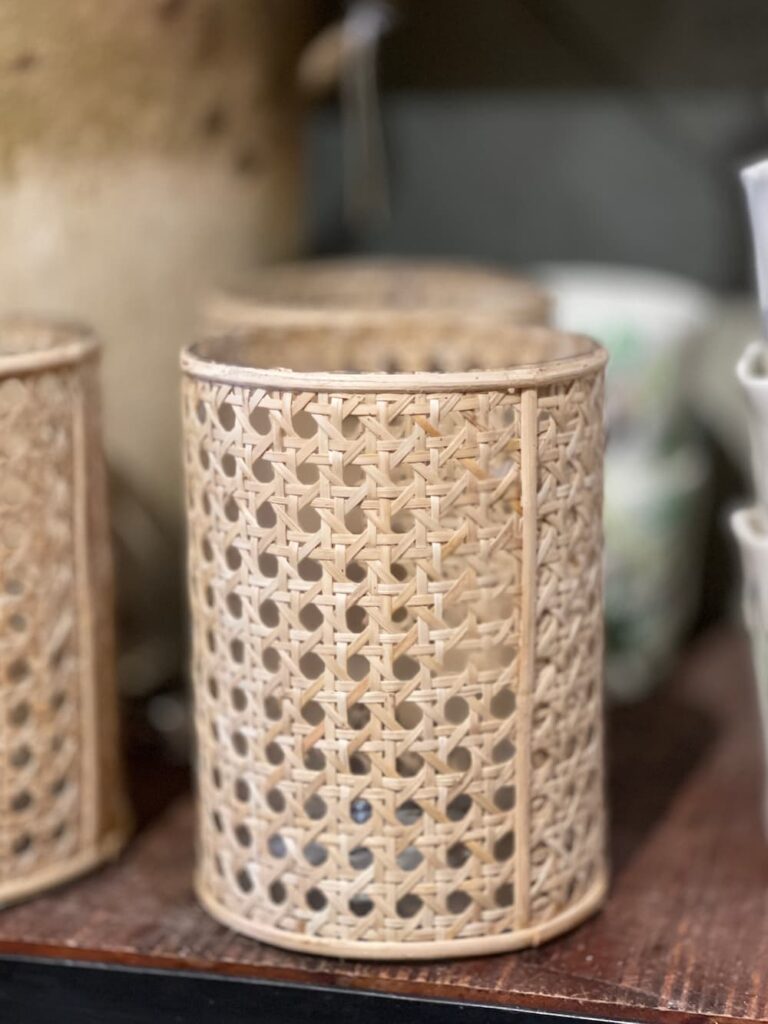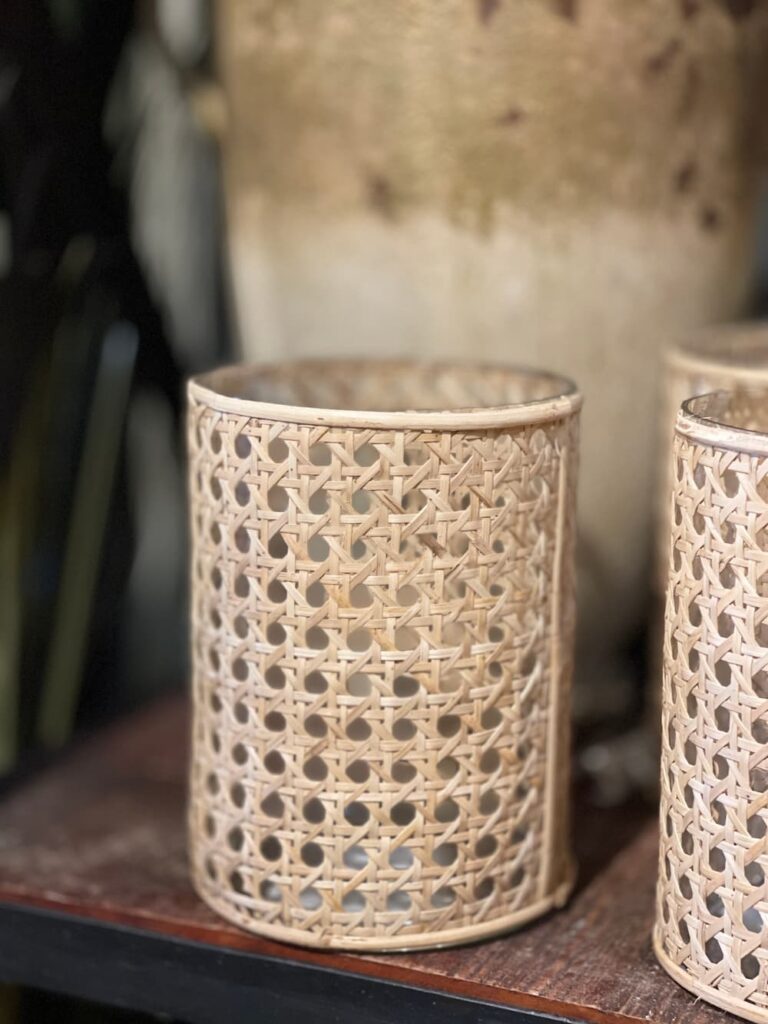 I was even more excited to try this because of the leftover cane from this side table flip I did a few months ago. I purchased a roll from Amazon.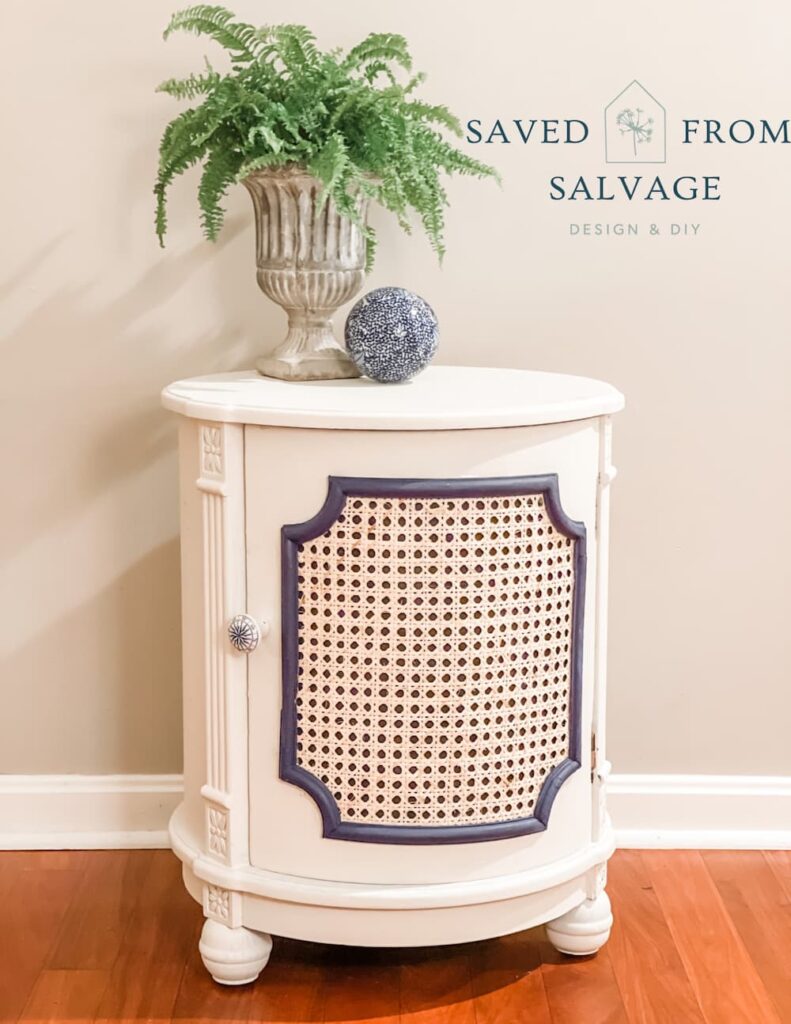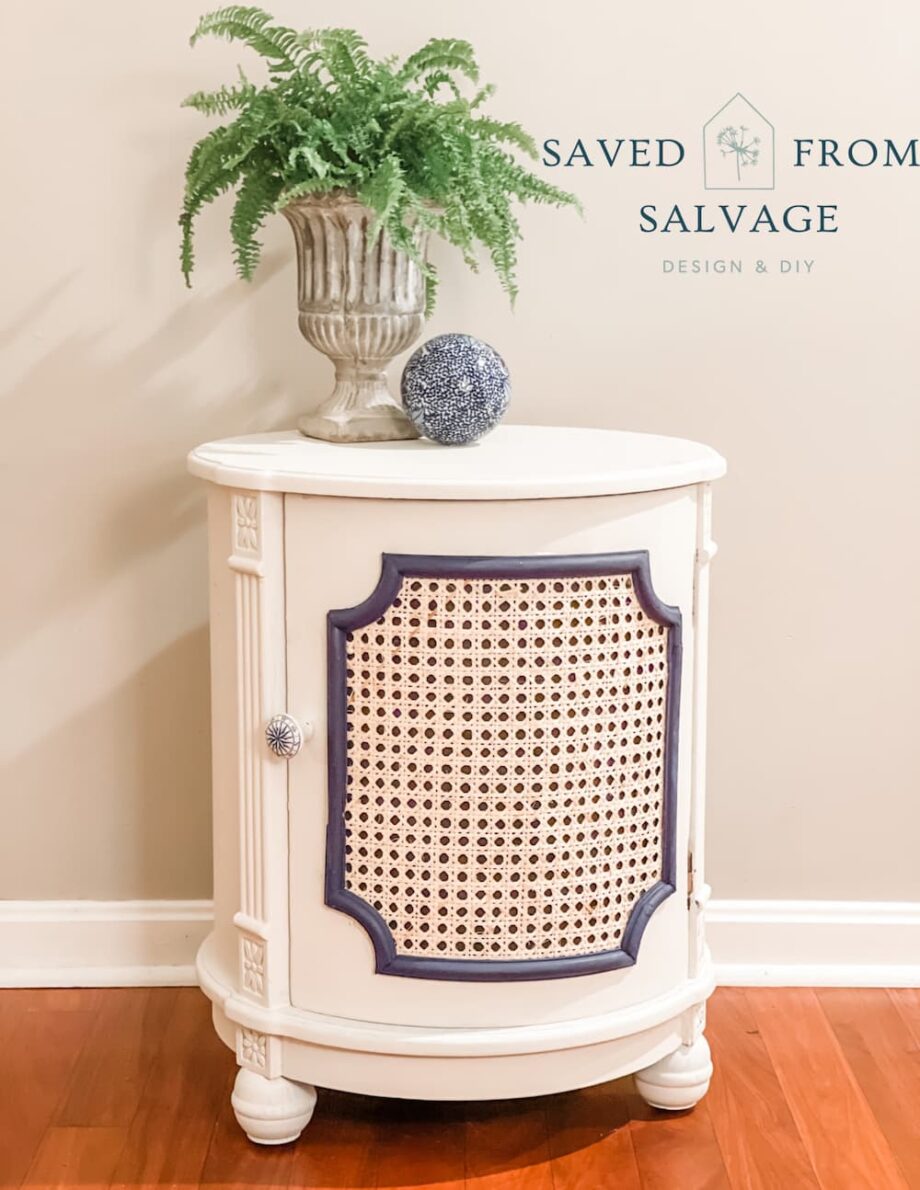 SUPPLIES TO UPDATE YOUR VASE
Round Glass Vase
Caning Material
Goo Gone
Glue Gun
Spray Bottle of Water
Scissors
HOW TO UPDATE YOUR VASE WITH CANE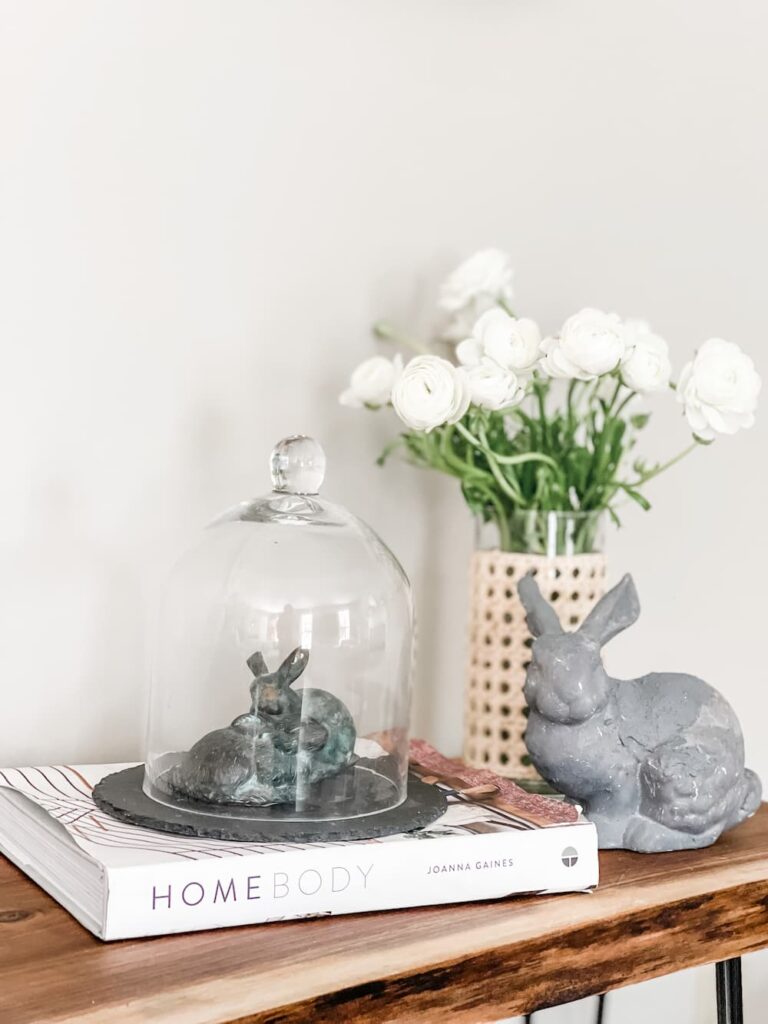 I would bet there isn't a thrift store you could go in that doesn't have a few of these vases on the shelves. My advise is not to pay more than $2 for one, sometimes they are cheaper. I was happy with $1.49,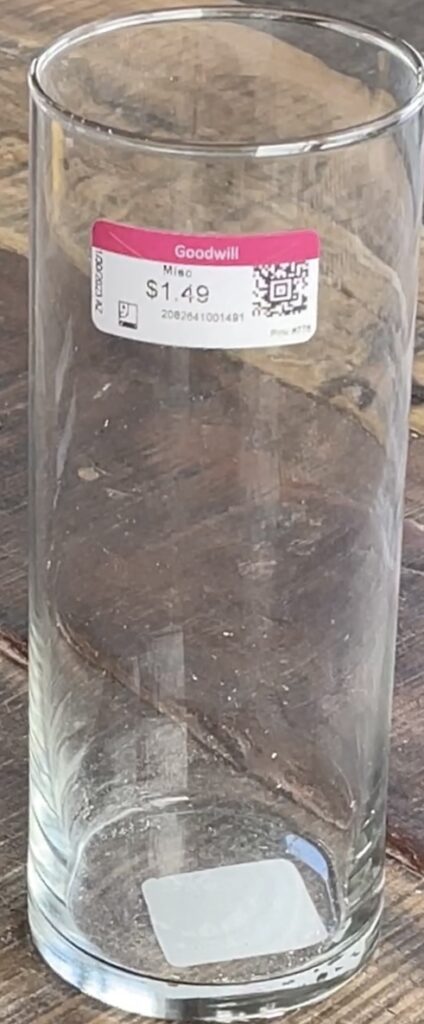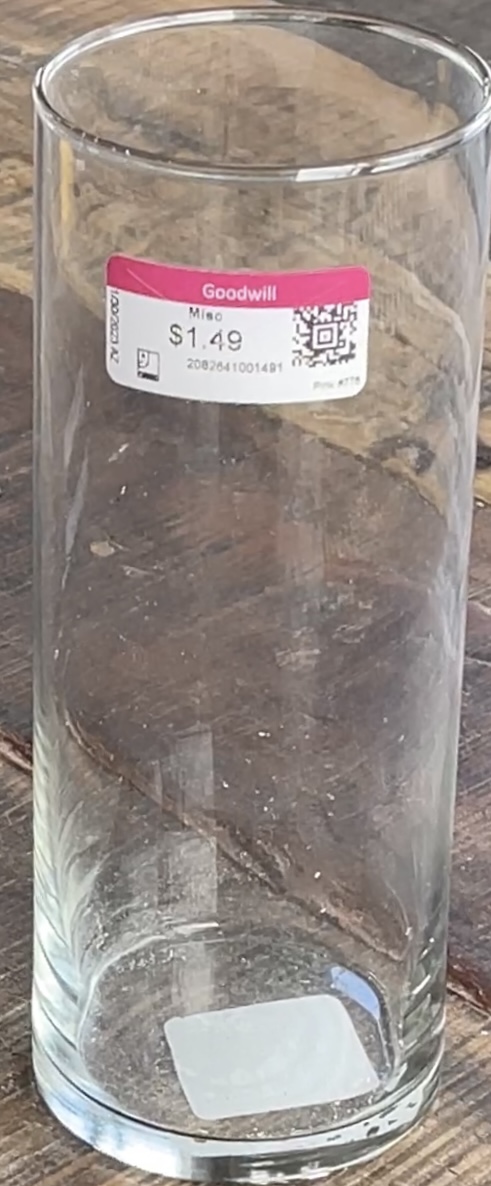 The first step is to clean off the label from your vase. I did it with a degreaser and razor blade but Goo Gone works well also.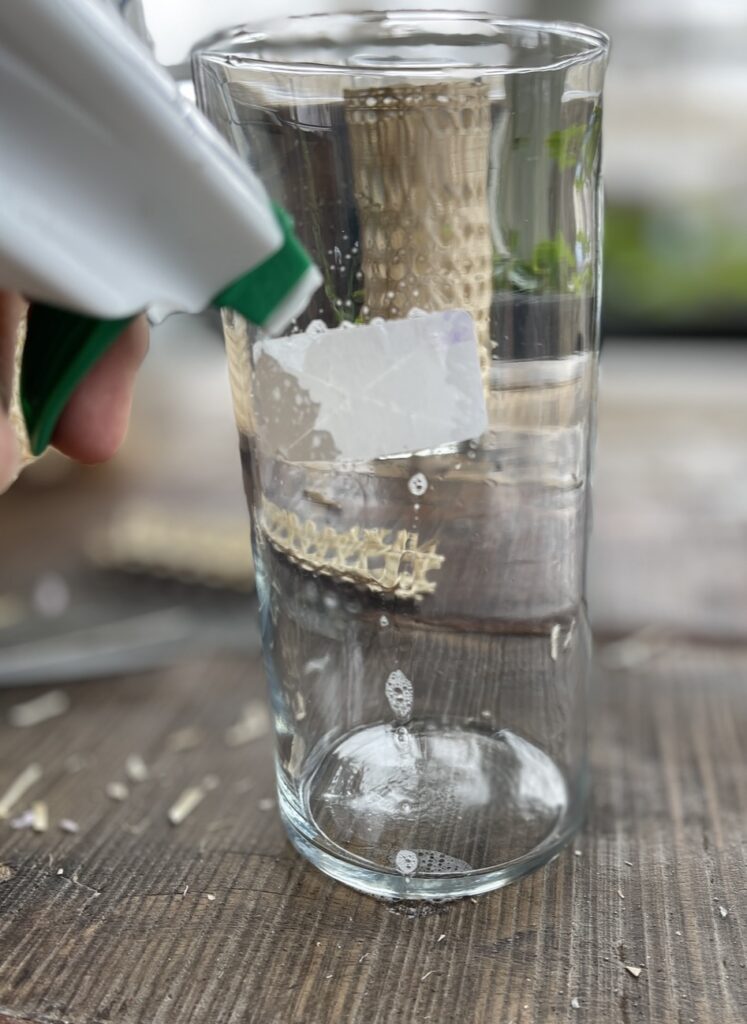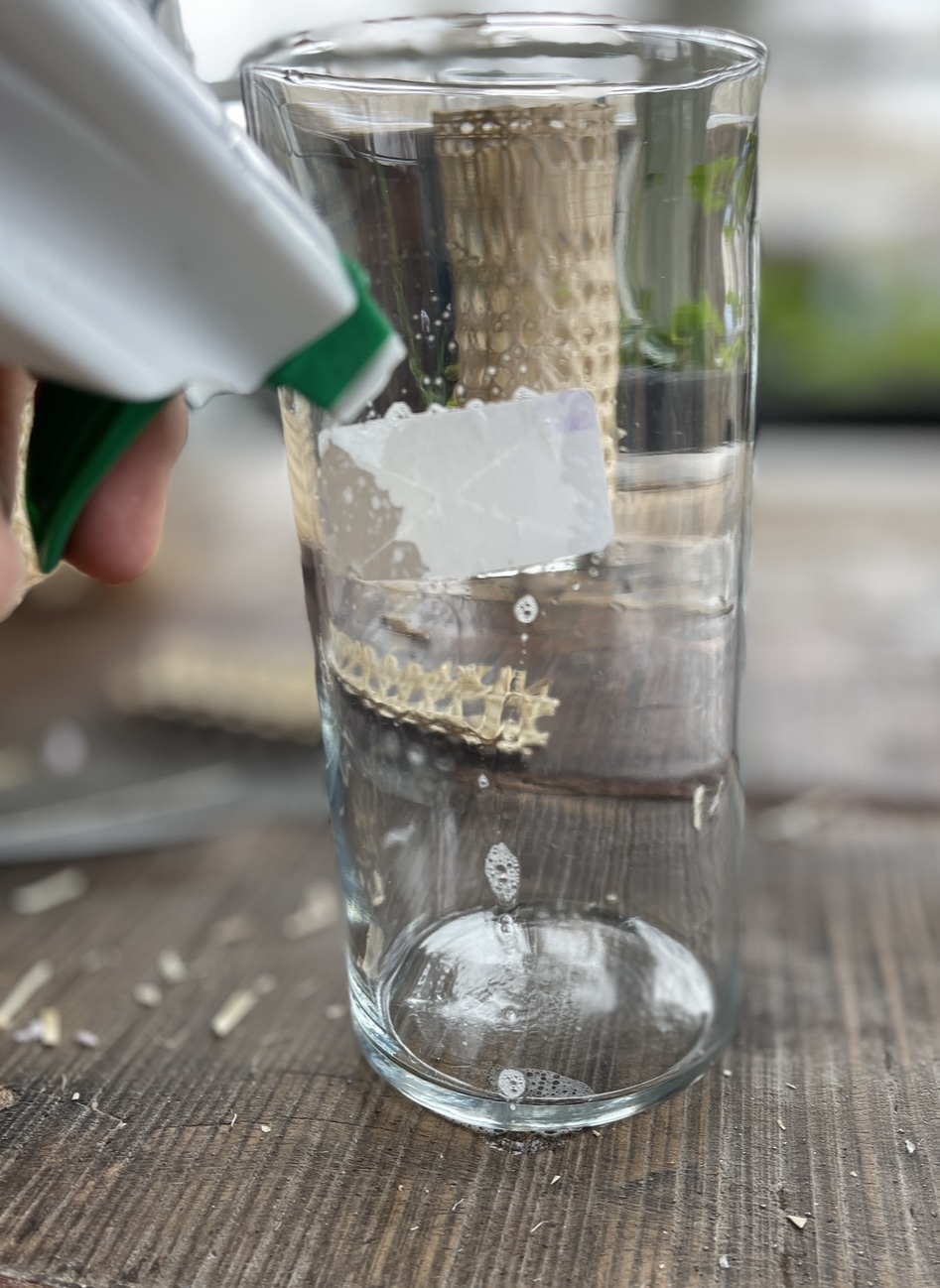 The next step is to measure how high on your vase you want the caning material.
Then cut it with a sharp pair of scissors.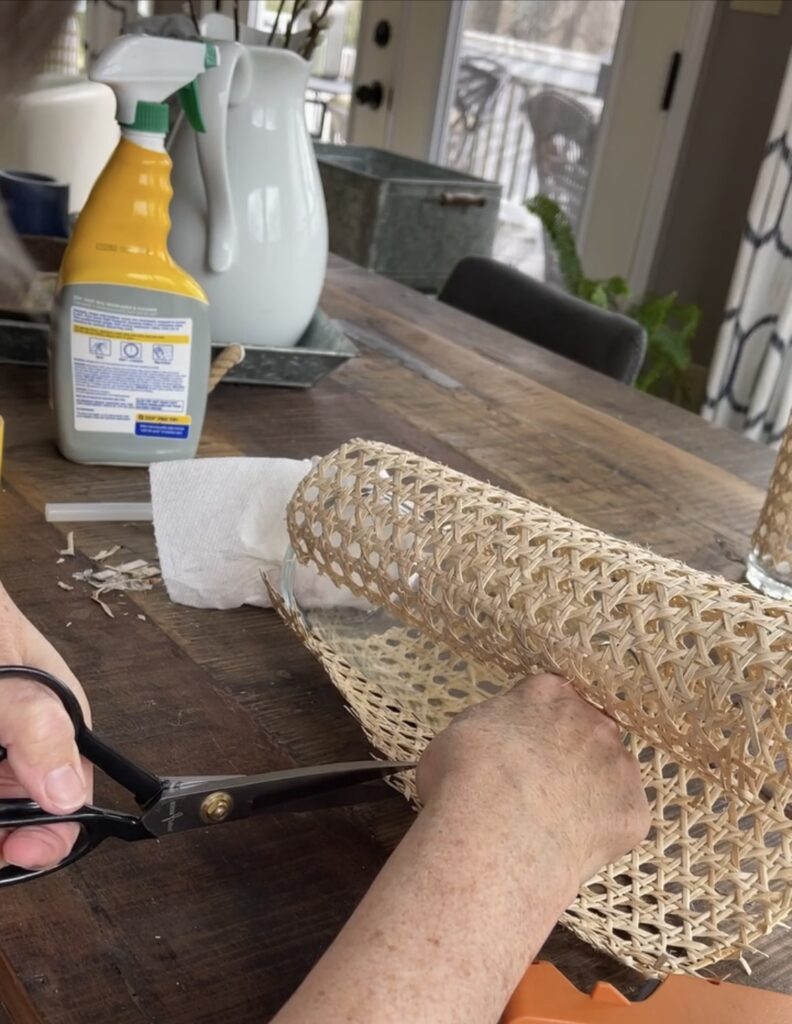 The last step (told you it was easy) is to attach the caning to your vase. I did it with a glue gun, adding a line along the vase and then one on the caning material itself.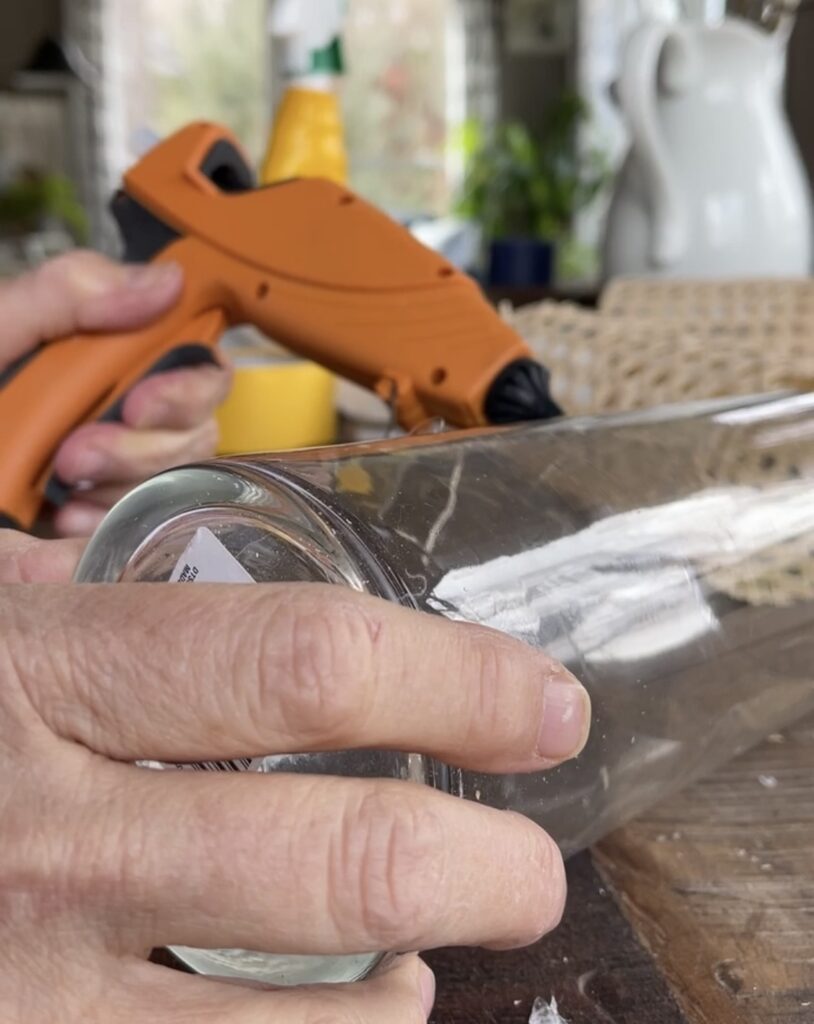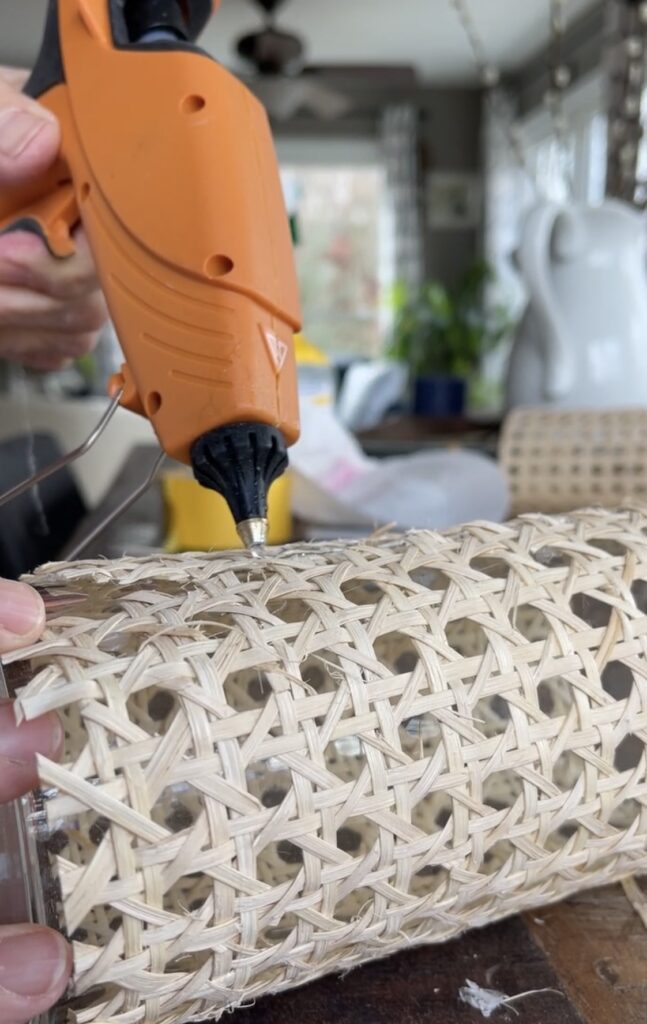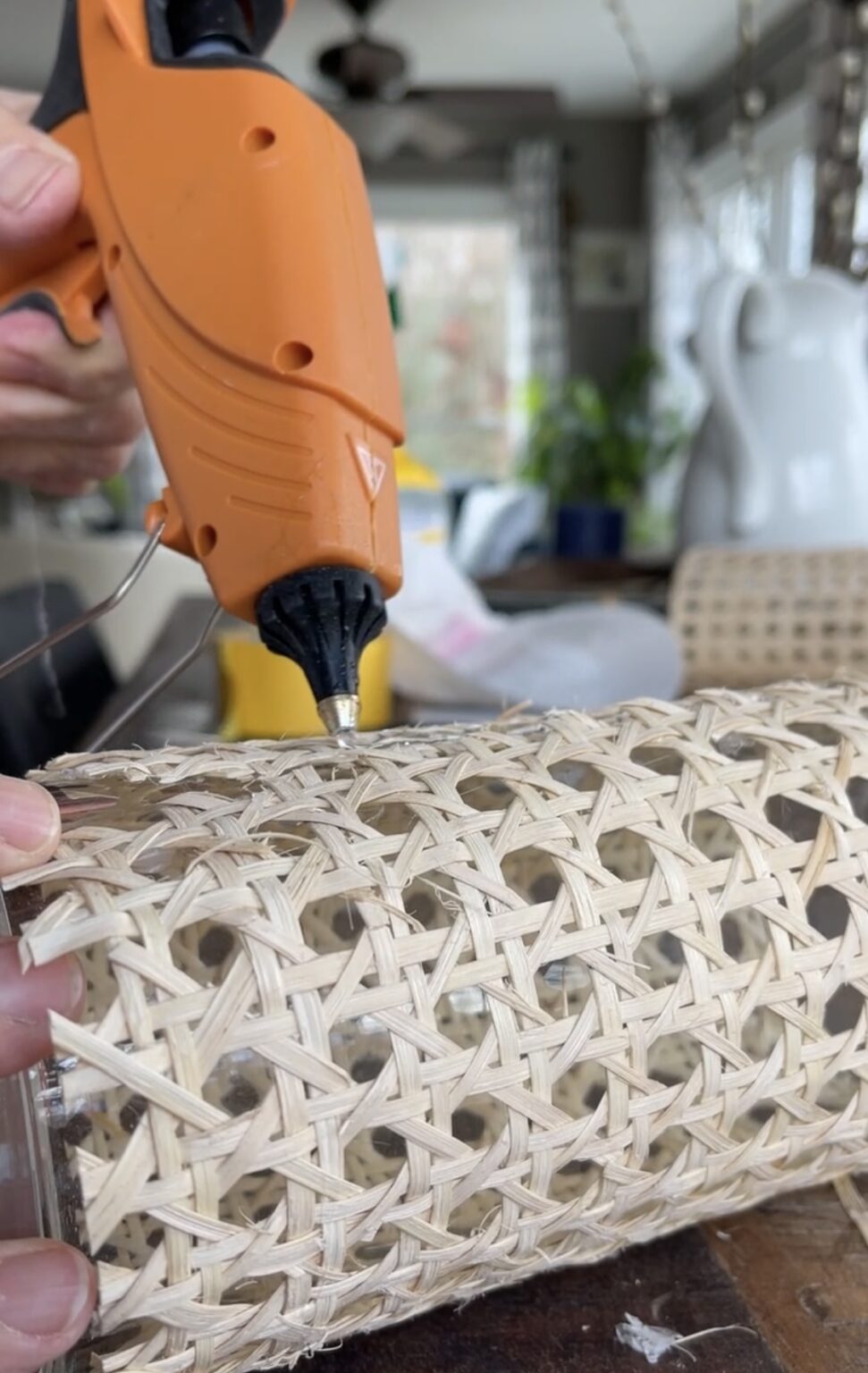 The only challenge was my cane was rolled up and it kept bouncing back into a roll. I forgot that when I did my side table, I spritzed it with water and it makes it more pliable. So you definitely want to do that to yours.
HOW TO STYLE YOUR THRIFTED VASE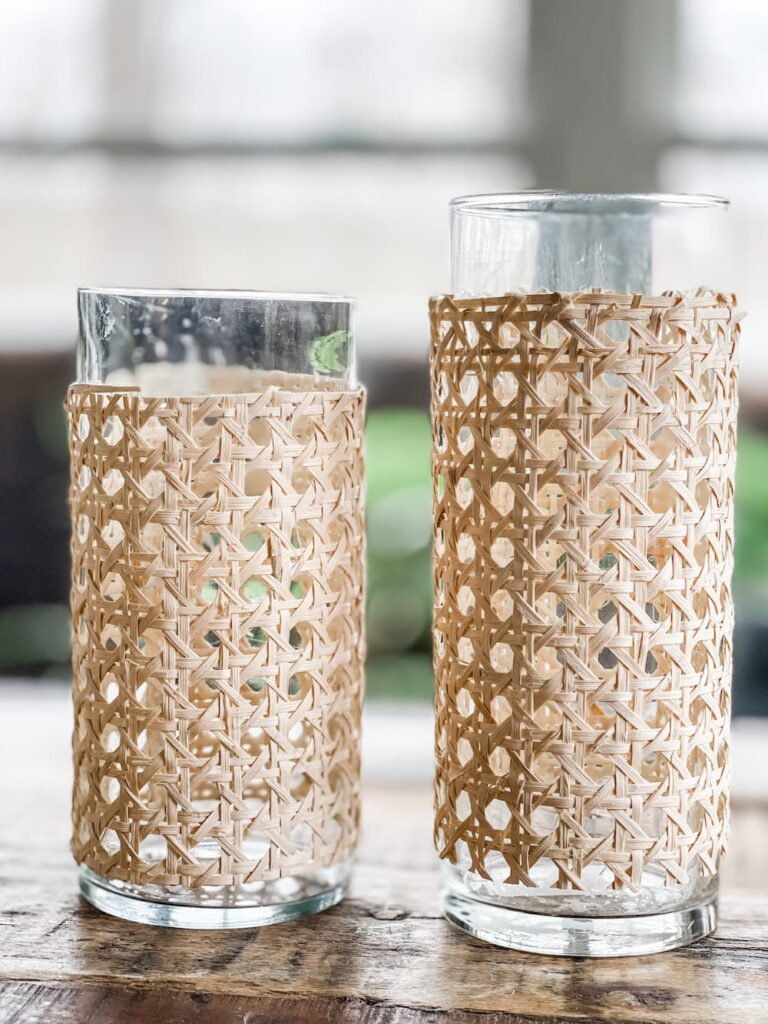 How easy was that? Such a fresh look for flowers or a candle. Now I have two for $3 and that's not bad.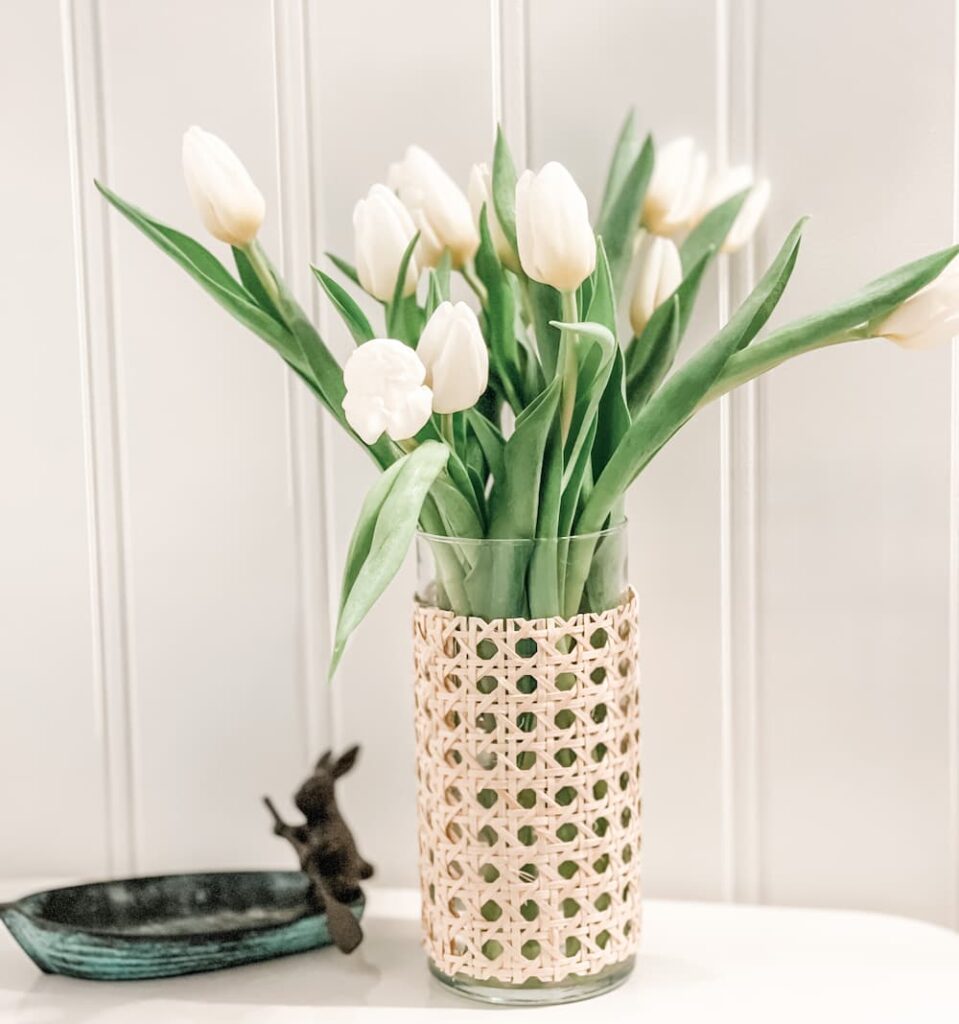 This style of vase goes with everything. If can fit into any type of decor. I'm loving styling it with pussy willow branches, ranuculus, tulips, you name it.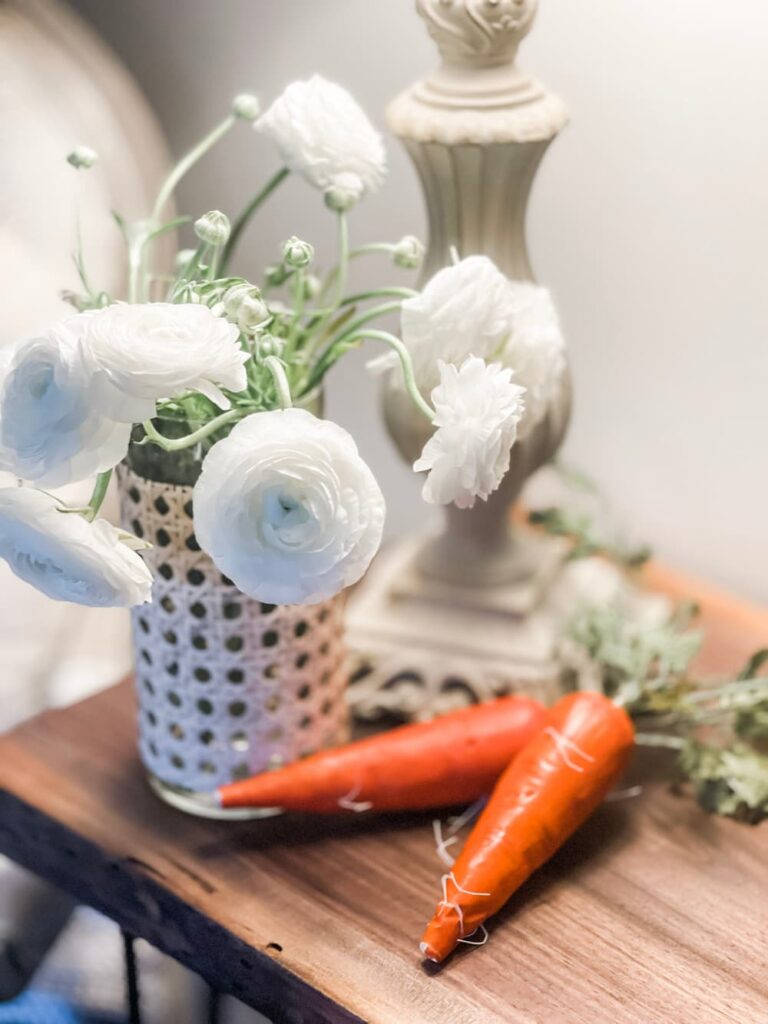 FREQUENTLY ASKED QUESTIONS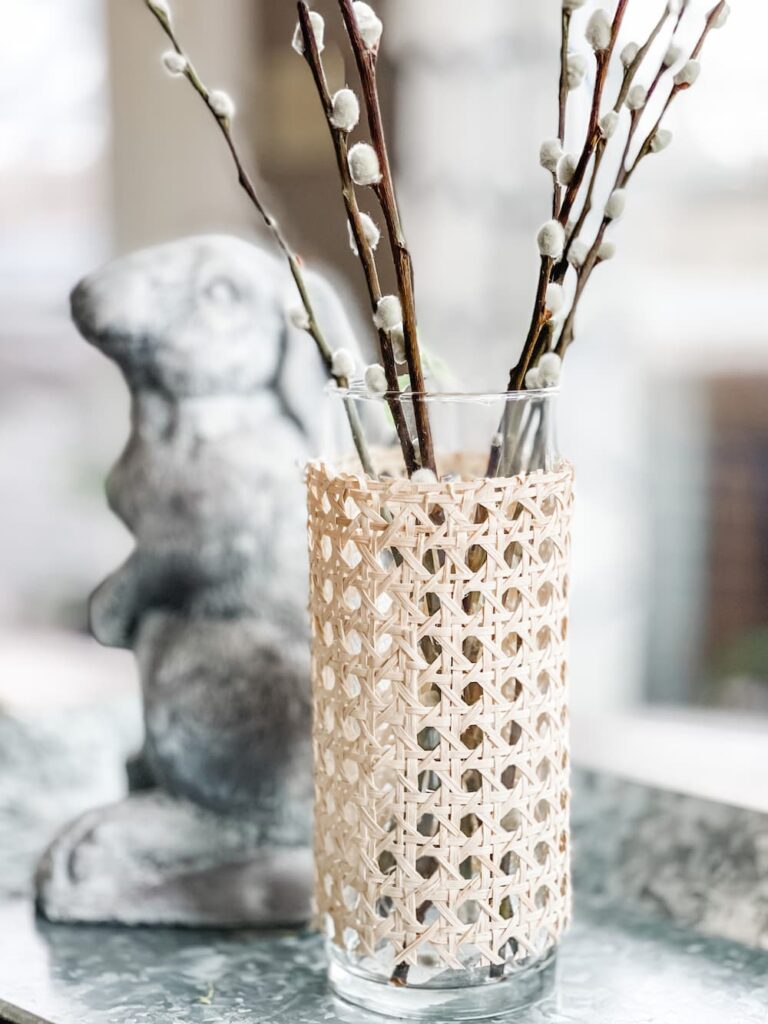 How do you update old vases?
Finding a vase at the thrift store is easy, and you may have some at home you have grown tired of. One of the easiest ways to update an old vase is with paint. You can use chalk paint, or a silk mineral paint.
Another idea is to cover it with peel and stick wall paper. It makes it easy to change it up, especially if you have some leftover from another project.
How do you make an old vase look new?
Adding this caning is a perfect way to make an old vase look new. You could also make it look completely different by adding some embellishments before painting. Think of a clay flower or object like I made in my vintage bunny pots. You could glue on a bunny and then paint the entire vase.
SHOP THIS POST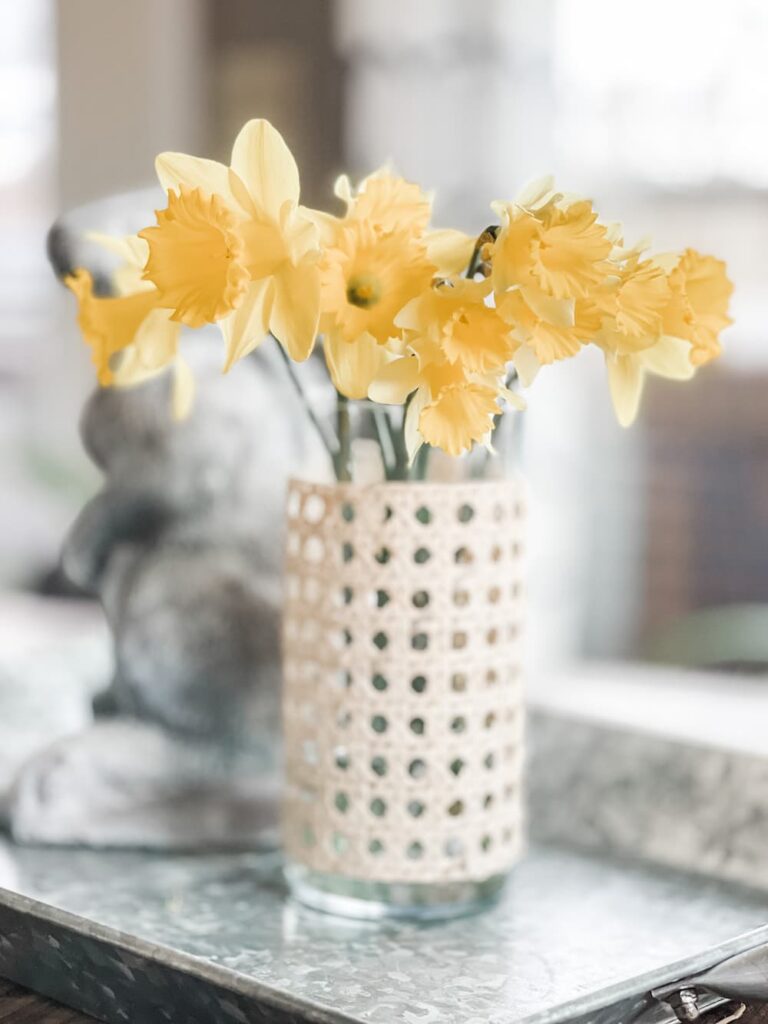 This post contains affiliate links, if you purchase from these links, I receive a commission at no additional cost to you.
Thanks for much for stopping by Saved From Salvage. Let me know if you try this easy DIY. I love this look as you can see from this Glass Hack I did last year.
Is it feeling like spring there? It finally is here in Maryland and I just finished cozying up my porch. Come see!.
Have a great one,
XO, Regina
It's that time of year when we are searching for the perfect gift. Functional, useable, beautiful, unique. You can stop searching and start making. These DIY Hand Dipped Pinecone Fire Starters make a perfect gift for neighbors, friends, housewarming or hostesses. Come see just how easy these are to create in an afternoon. Hi, I'm…

Hi and welcome to November and Lately on the Lake. Last weekend it was in the 80's, I woke up Thursday and it was 29. Yuck. I know many of you have already seen that white stuff. Today I'm sharing what I've been up to, what I'm working on, what I'm loving and what's inspiring…

Do you love to use natural elements at the holidays? I do and today I'm sharing how to DIY a faux grapevine tree for Christmas. Inspiration came from the holiday shop at Terrain. If you've not been, it's a great outing for inspiration and gifts. There are two in Pennsylvania that are a few hours…