Looking for an easy and adorable bunny project? I'm sharing how to make a vintage bunny pot for Easter.
I have a bunny obsession, well I don't have a bunny but I have lots of bunny things and I am always excited when the daffodils bloom, in my mind that's when I can break out all things bunny.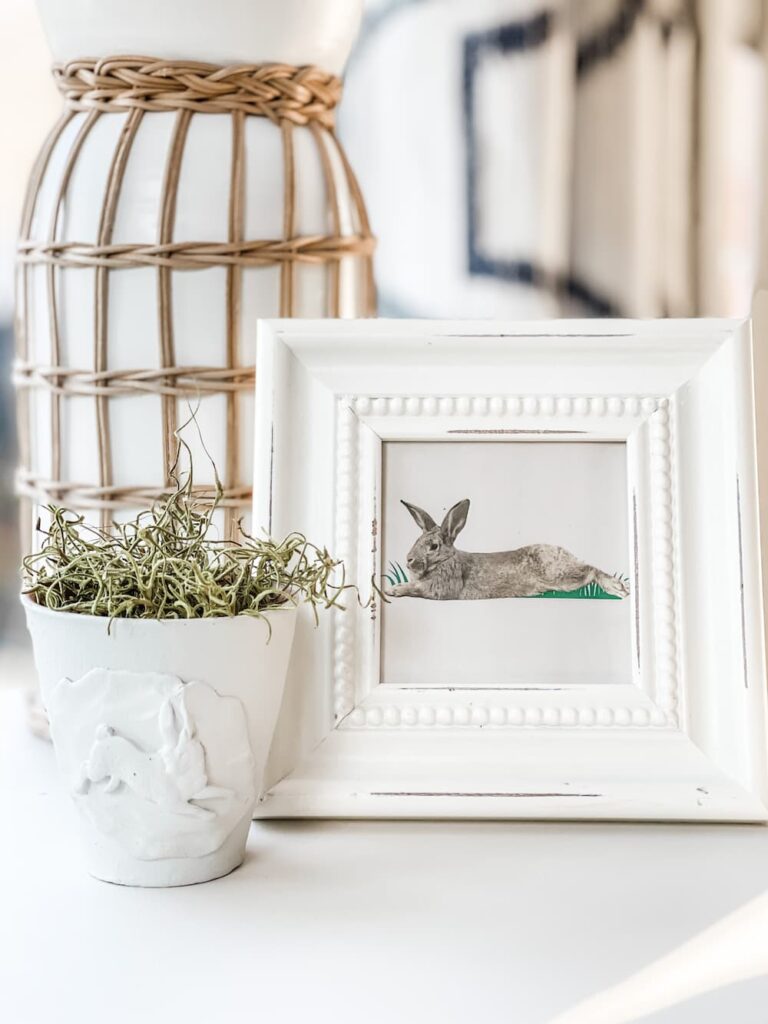 This year is no exception. I found these vintage english potting pots at an antique store and went right to work transforming them into bunny pots.
Perfect for a mini easter basket, to plant pansies in or add some grass or a candle.
Come see how to make one yourself.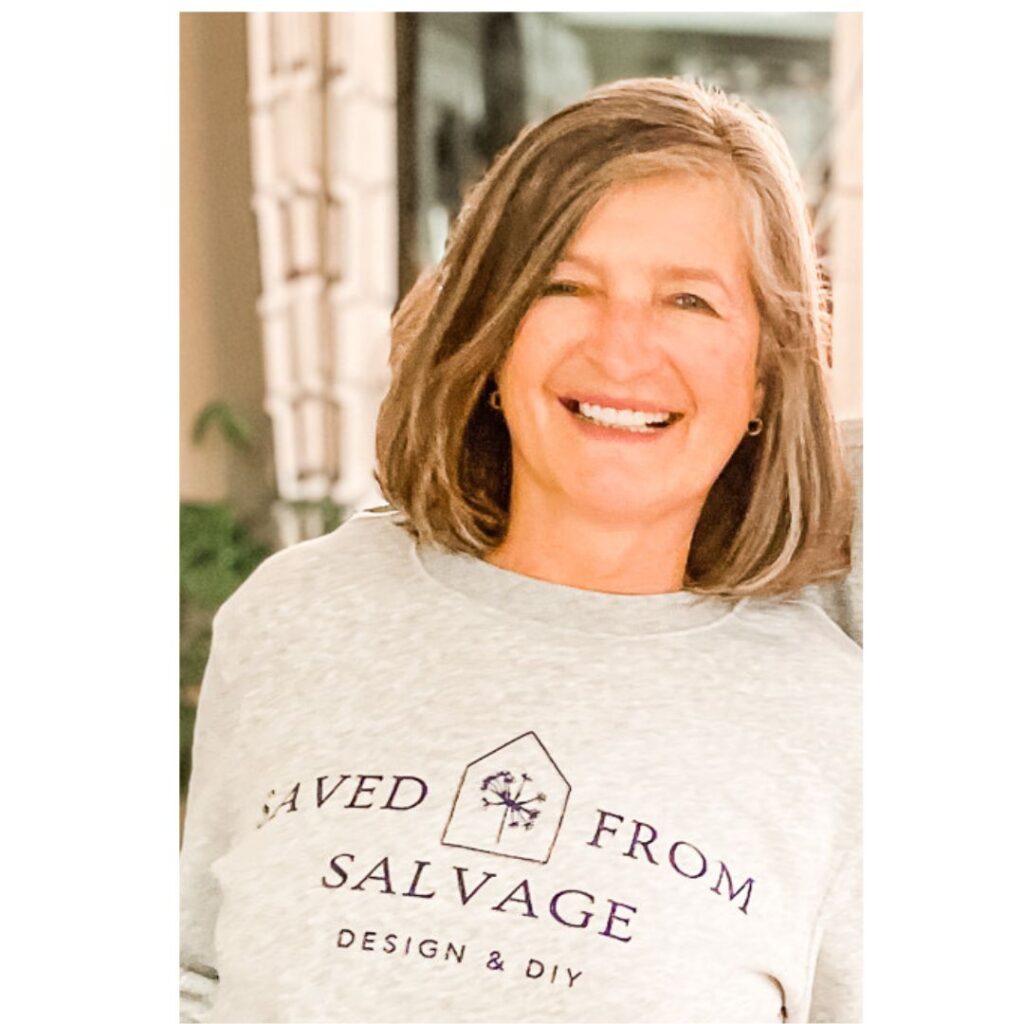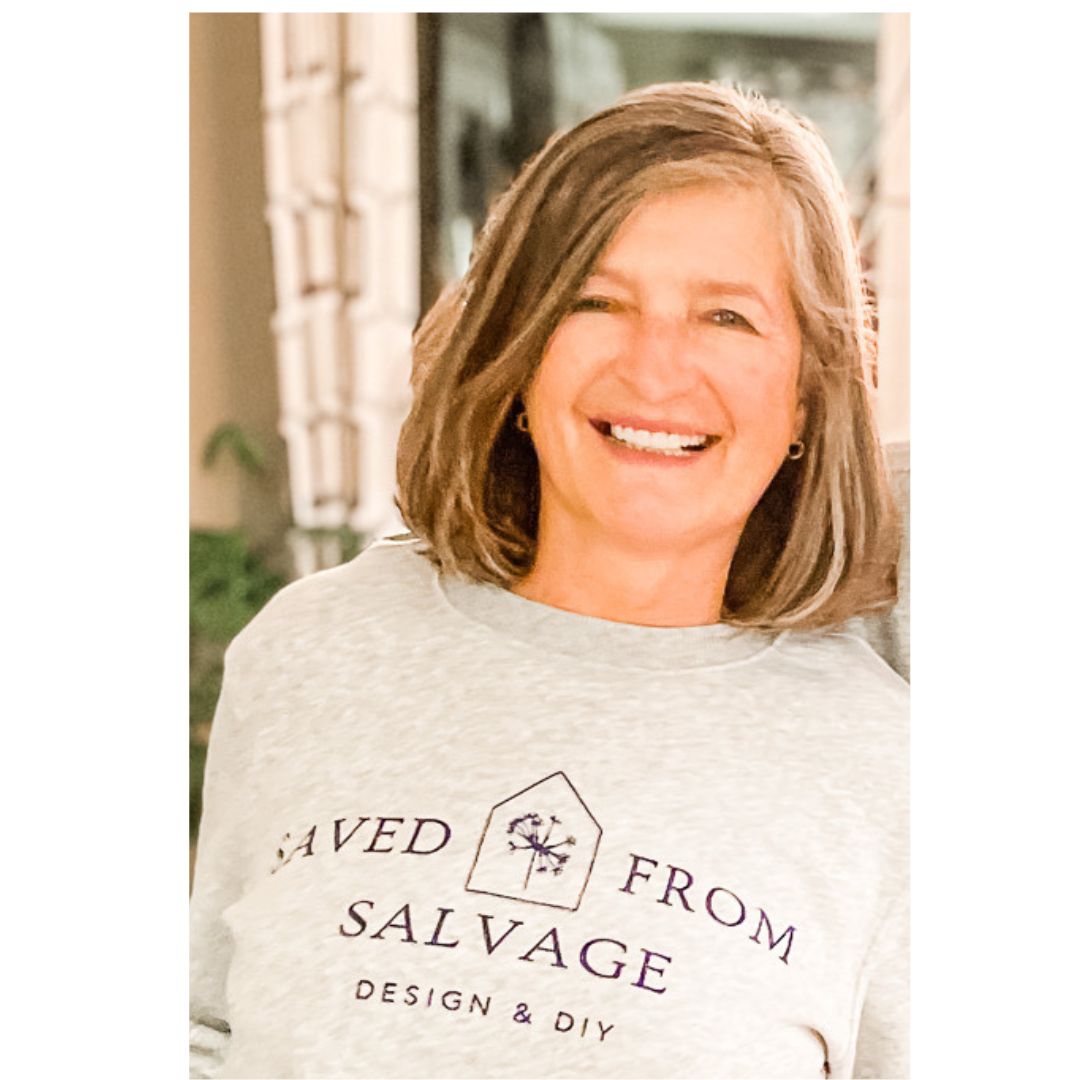 Hi and welcome to Saved From Salvage, I'm Regina and I'm glad you are here.
I love to share DIYs, Furniture Flips, Tablescapes and all sorts of home decor inspiration.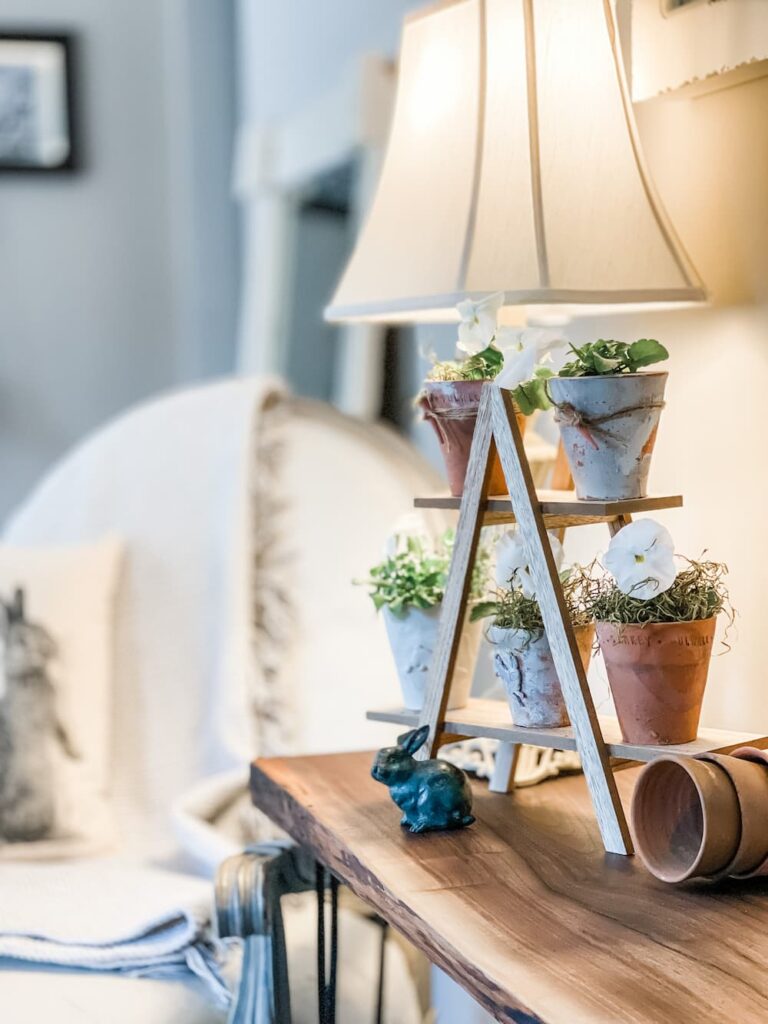 CREATING YOUR BUNNIES AND CARROTS
For my bunnies I used two different silicon molds.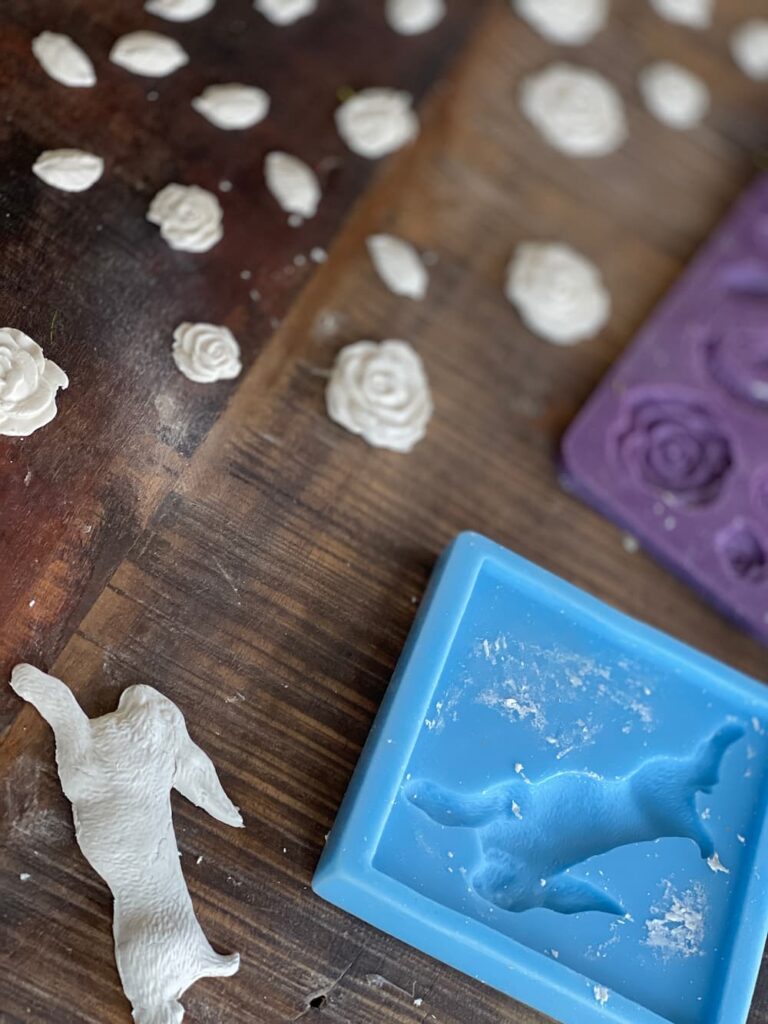 A larger jumping bunny and then a smaller bunny, like tiny actually.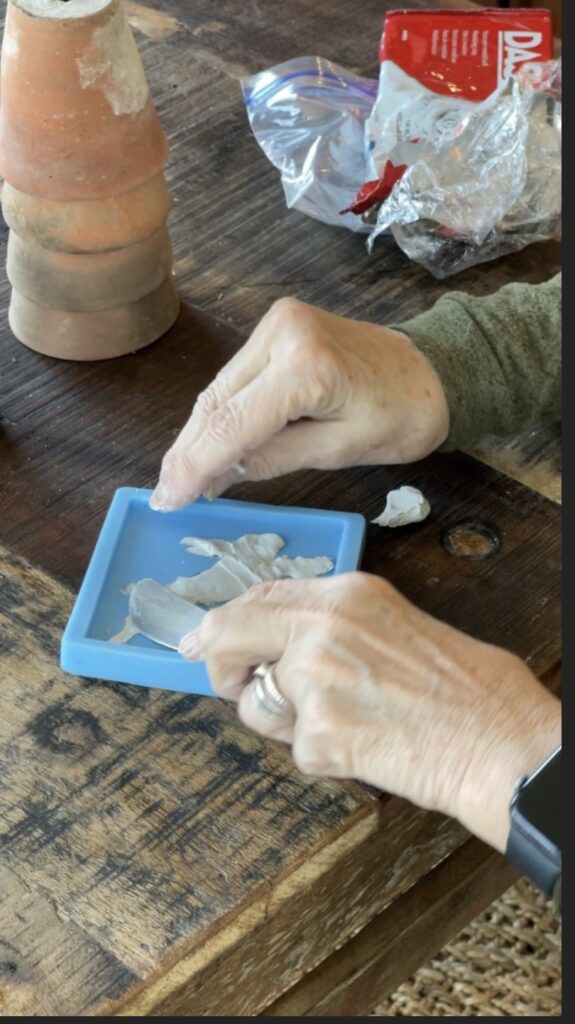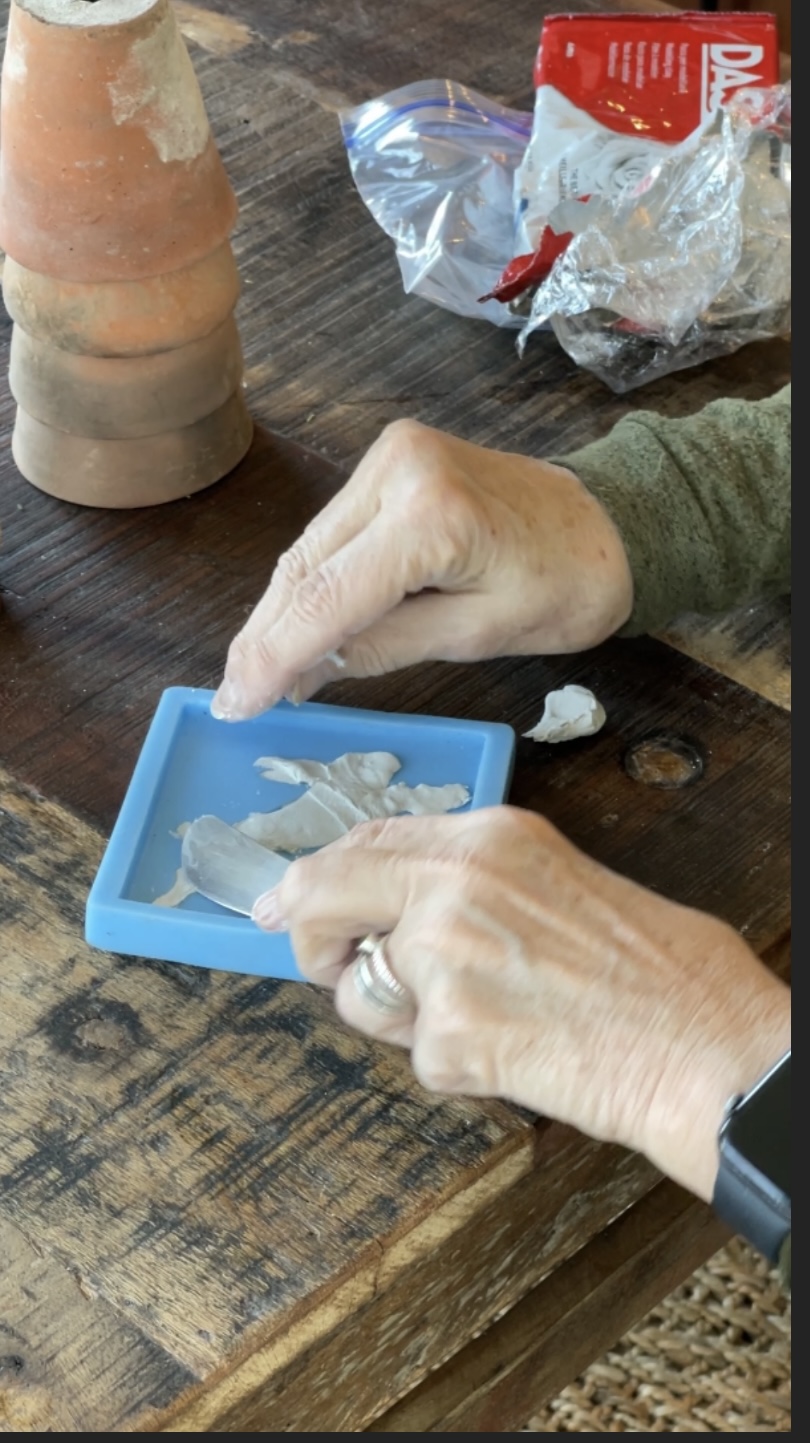 To create my bunnies I used both DAS Air Dry and Sculpey clay. The Sculpey is less brittle but either clay works fine.
VINTAGE BUNNY POT VIDEO
To get the curve of the pot so the bunny dries flat, I draped them across the pot with the pot on its side.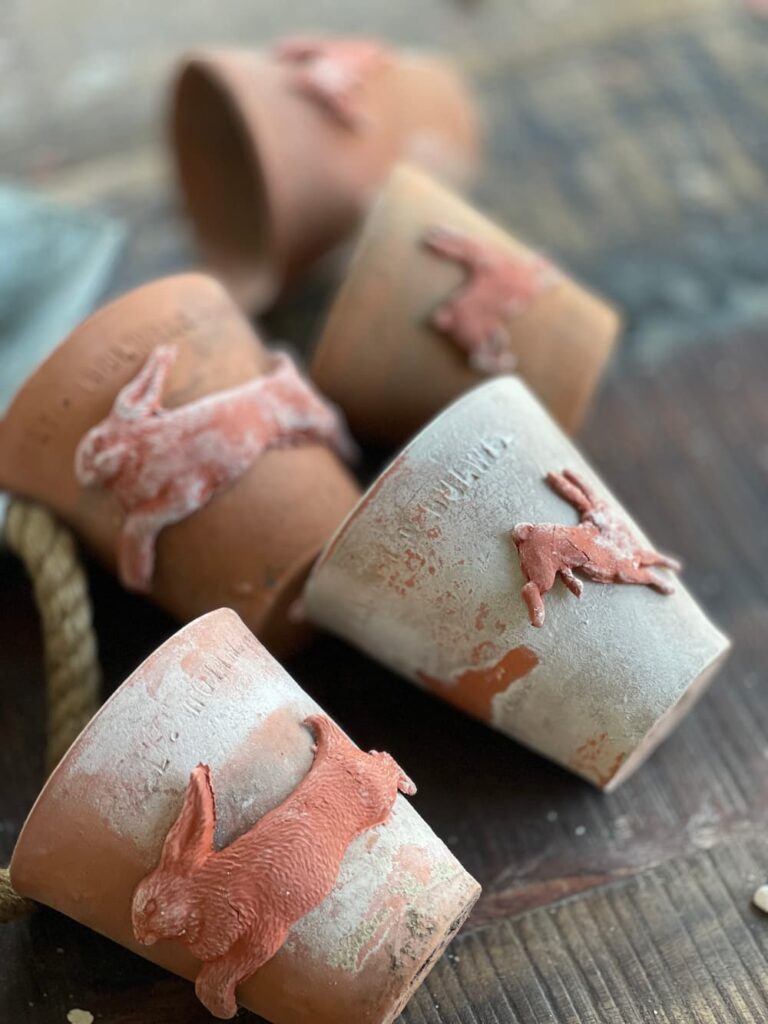 For the Sculpey rabbits, I made some just in the molds, then I made some where the clay filled the entire back of the mold so the bunnies were raised up on a flatter piece of clay. I like both looks, you can do either.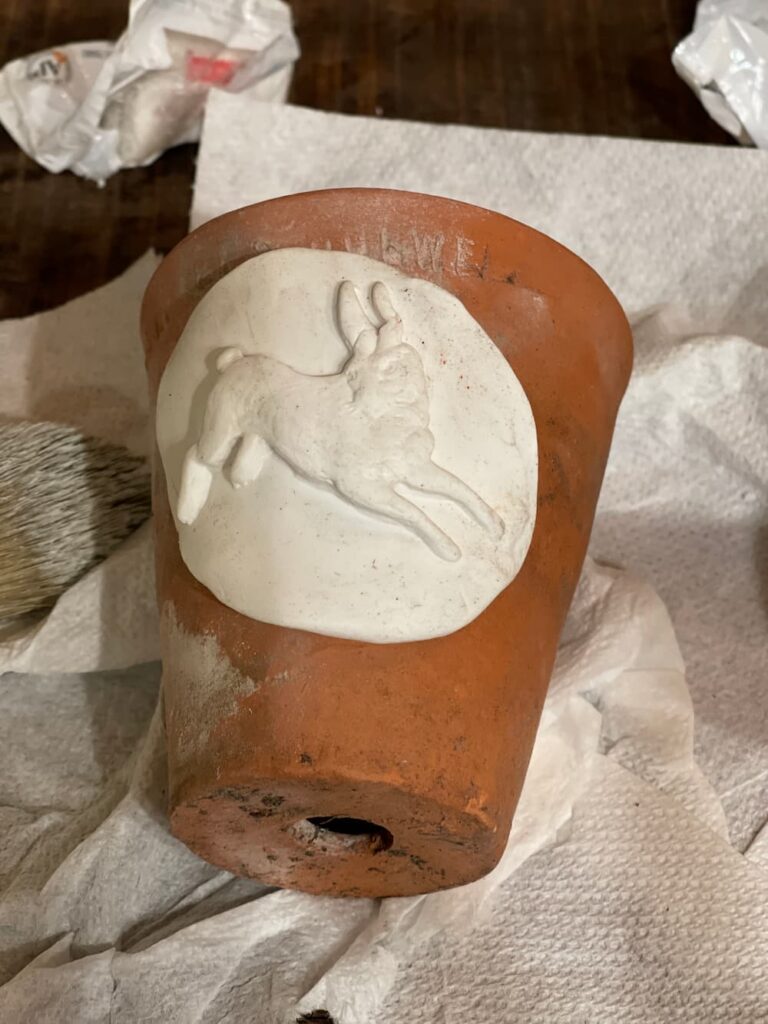 For the carrots, I rolled out my DAS Terra Cotta clay and took a butter knife and made lines along the carrot. I made several sizes as I used some for this cute Grapevine Spring Wreath I recently made.
For the green on the carrot, I put a drop of glue on the top and then dipped it in leftover moss. I also used this green leaf garland on the larger ones.
DECORATING YOUR POTS WITH CLAY
After you make your bunnies and carrots, then you need to decide if you want to paint your pots.
I love the whitewash look. To achieve this look, I used Dixie Belle's Silk Mineral Paint in Whitecap.
For an extra dimension, I used Dixie Belle's Best Dang Wax in Brown.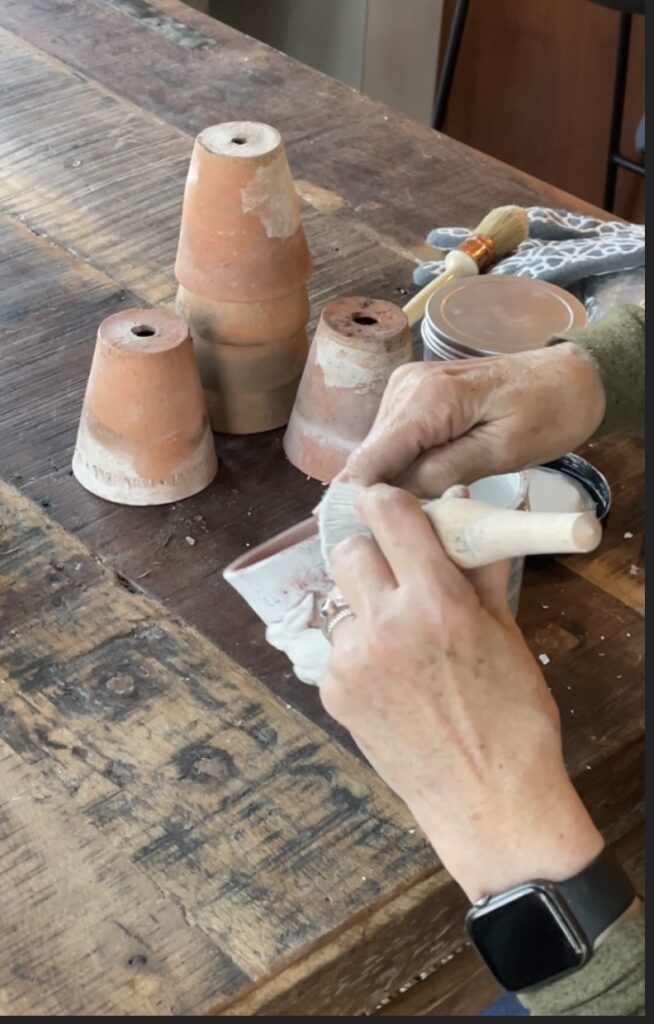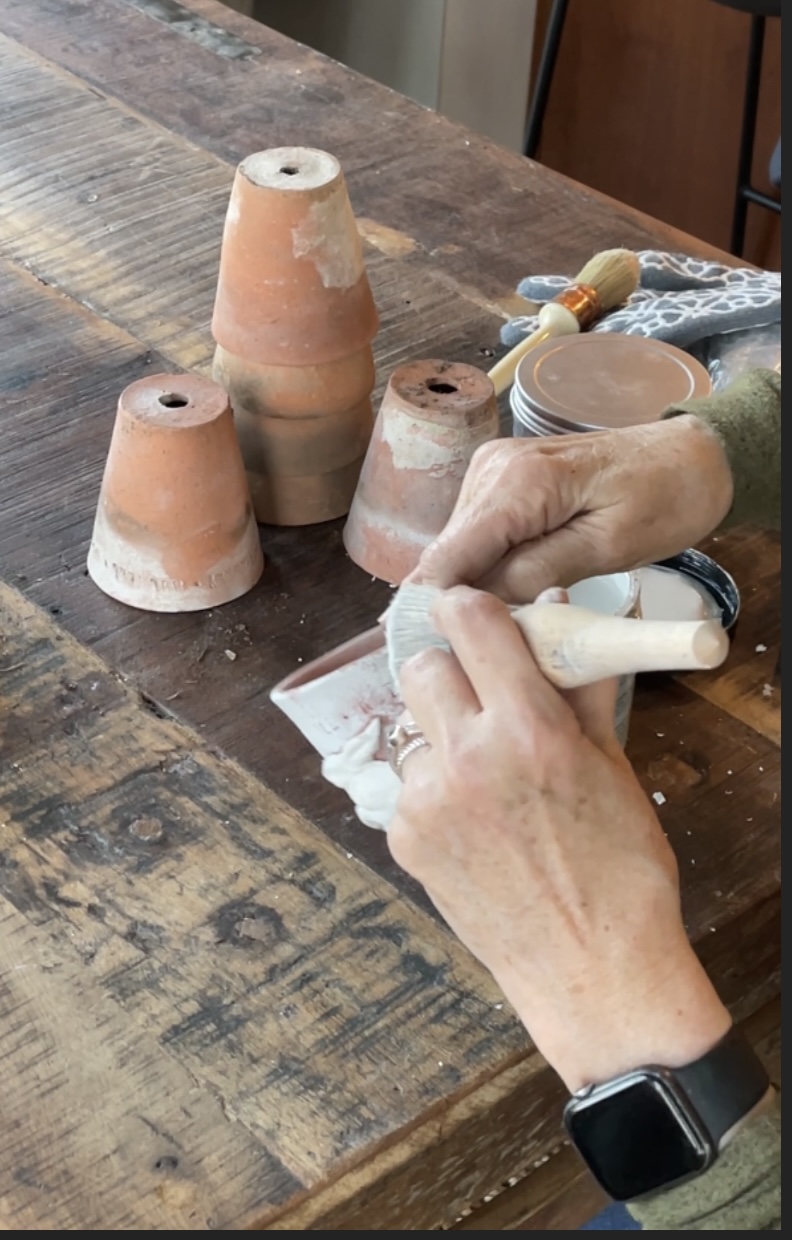 Whitewashing the pots, then wiping some off, then using a little dark wax, I played around with each of them until I liked the look.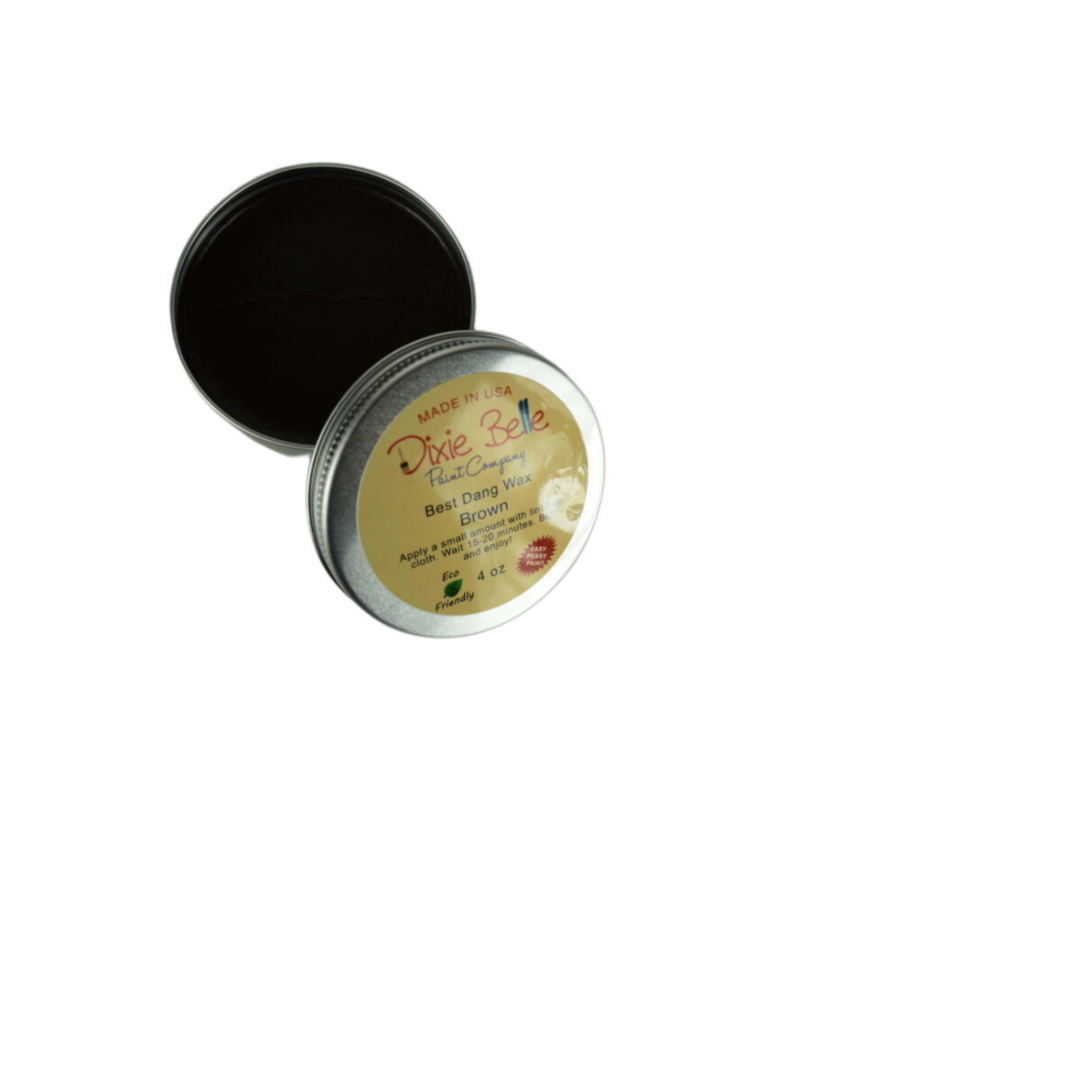 On another project recently I used the gray wax. These are favorites of mine to have on hand.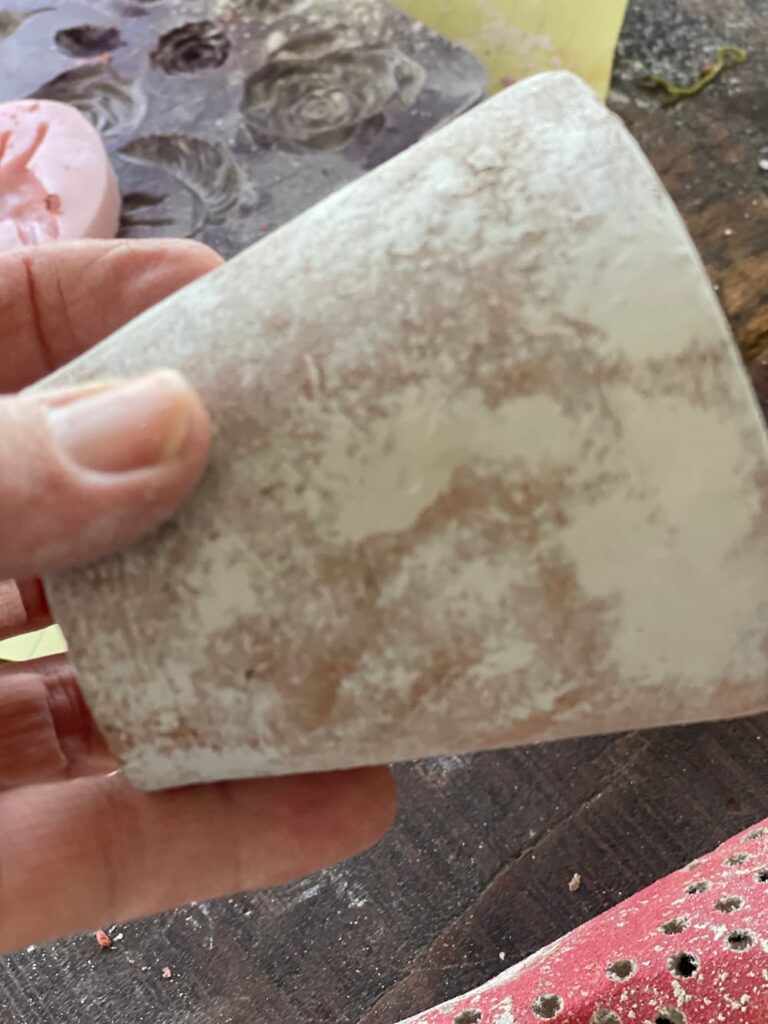 Next step is to adhere your bunnies and carrots to the pots.
I used both a hot glue gun and E-6000 glue. For speed you can't beat the glue gun and it can be popped off if you need to reposition.
For a longer lasting and slower drying method, use the E-6000.
The carrots were attached to twine with a drop of hot glue, then I wrapped the twine several times around the pot and tied it.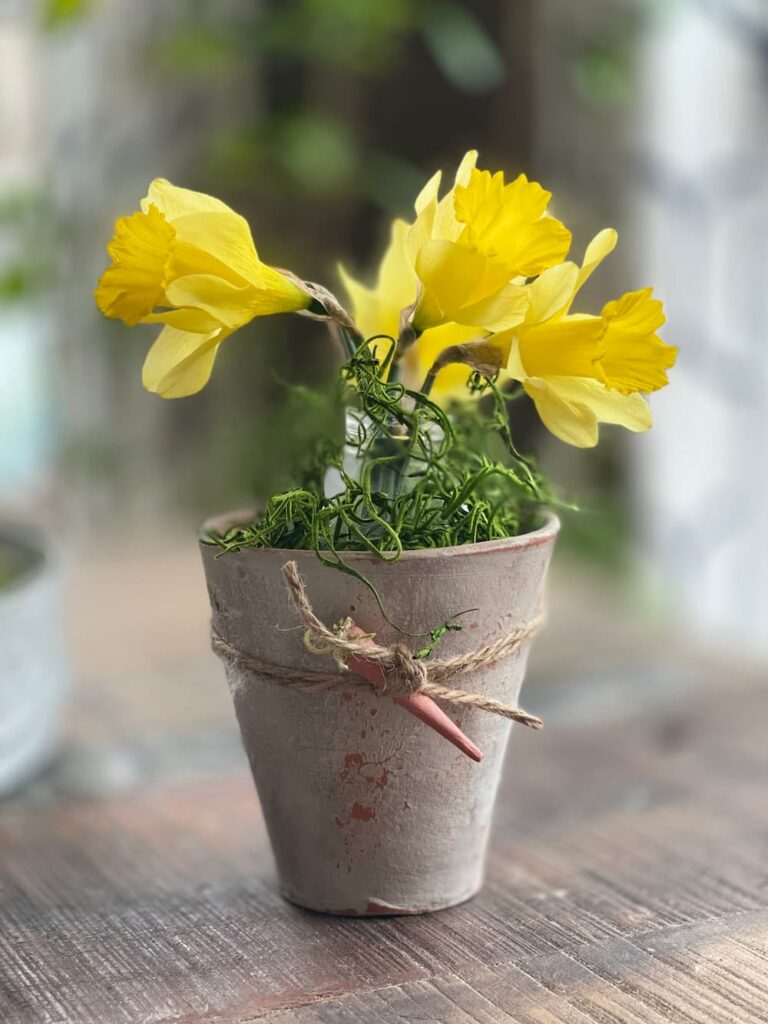 They make a great pair.
WAYS TO STYLE YOUR BUNNY POTS
There are endless ways to style these. I used moss to the inside and added one of my Stamped Clay Eggs.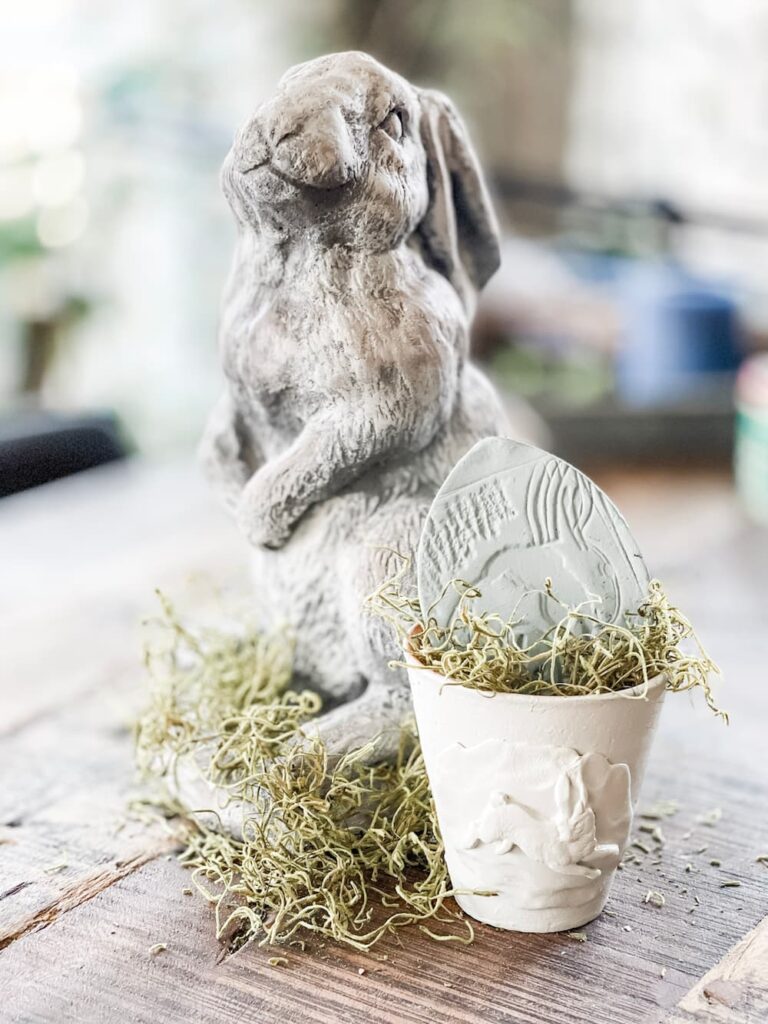 I planted pansies in some of them.
You could add an egg and use that as a name tag for a spring or Easter dinner.
If you have a small bag of goodies, you could glue a twine handle to the inside and use that as a gift.
These are not to have food directly touching them.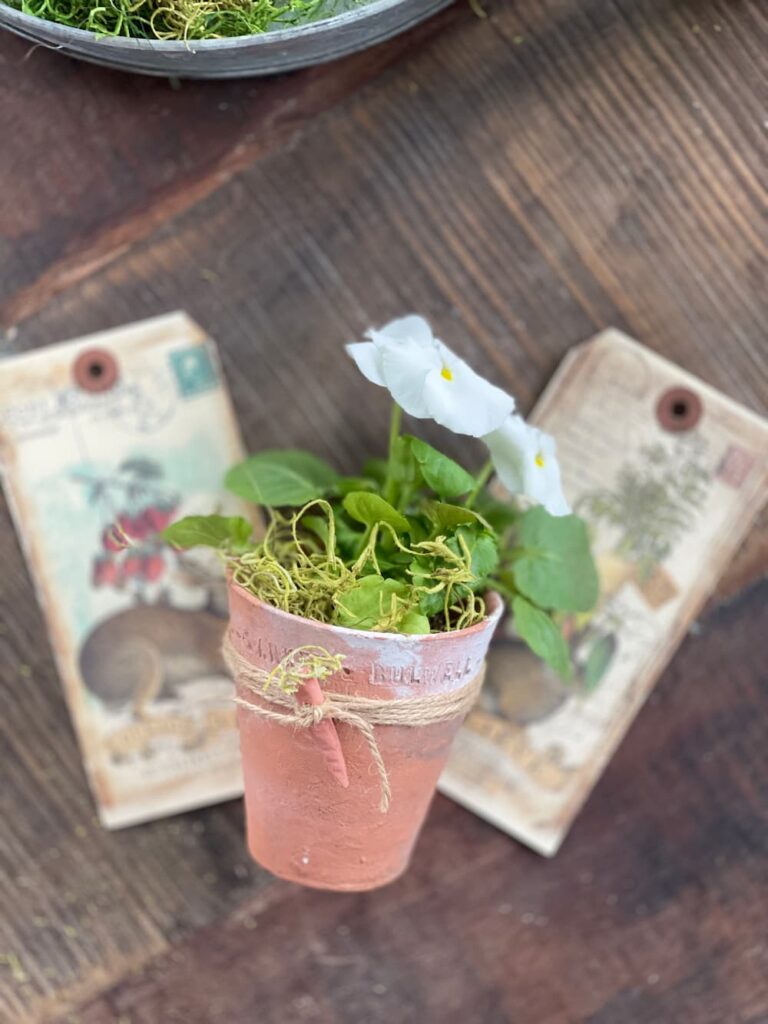 Even just the pot with nothing inside appeals to me. I did put some votives in a few of the pots, they would make a great addition to the dining table.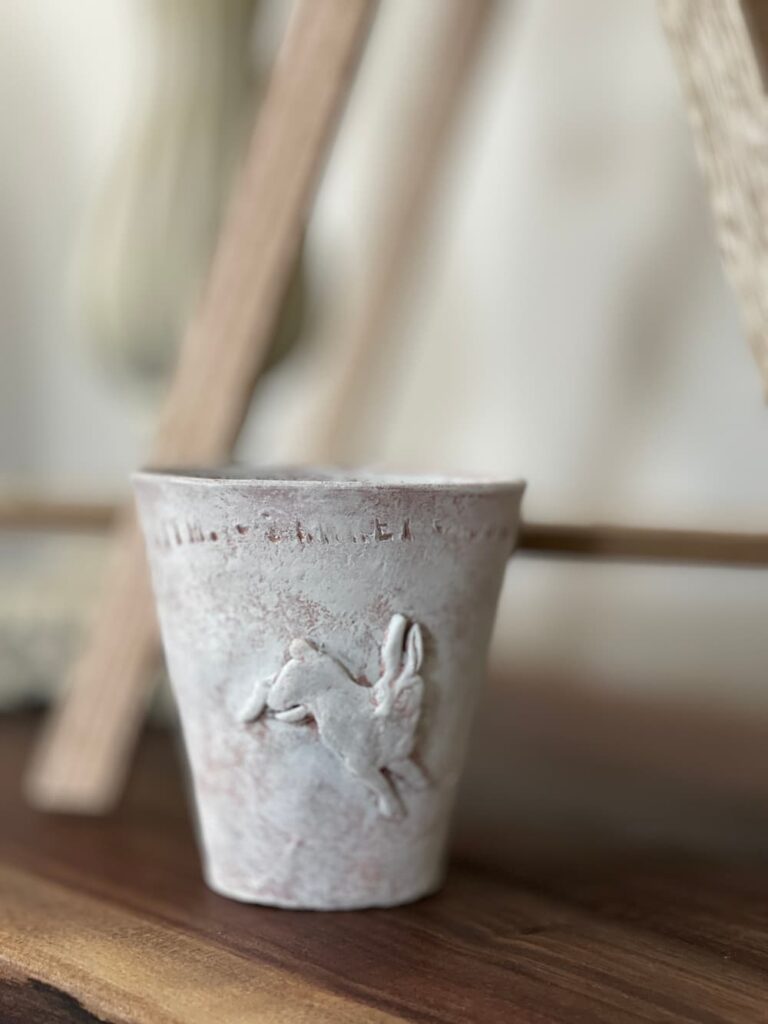 SHOP THIS POST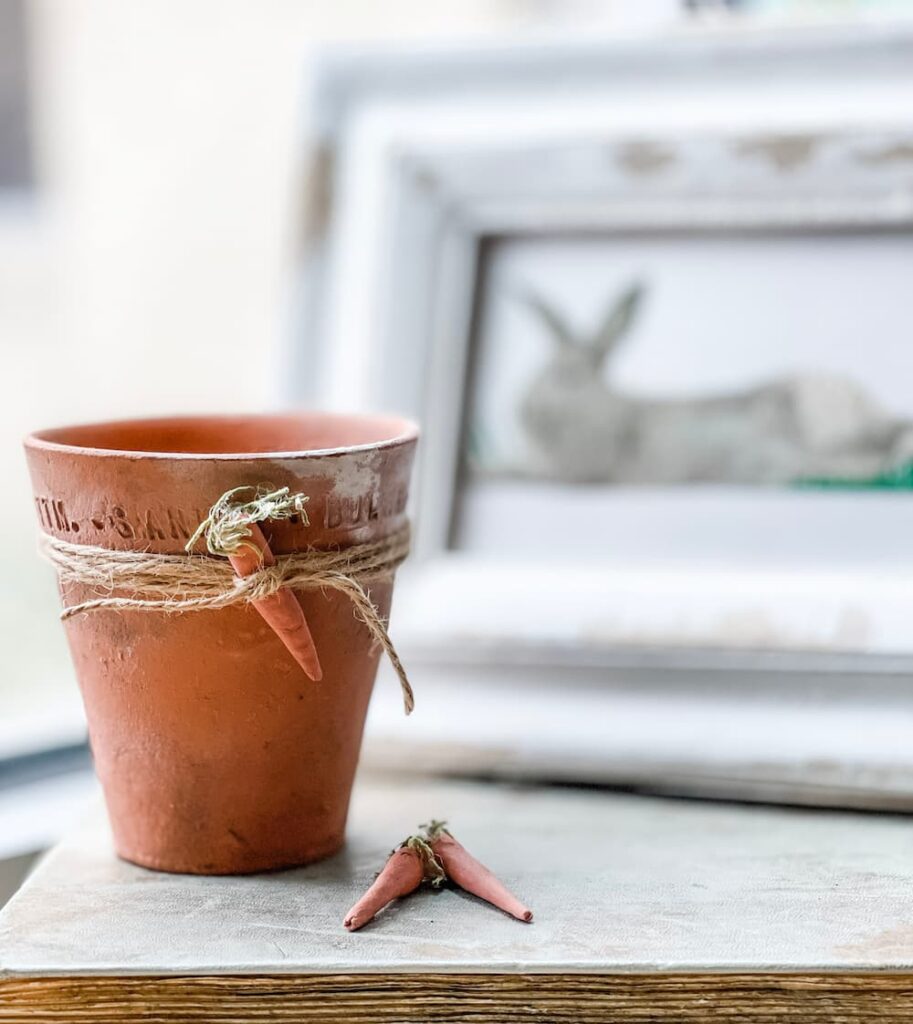 This post may contain affiliate links. If you purchase from the links provided, I will receive a small commission at no additional cost to you.
Thanks so much for stopping by Saved From Salvage. I hope you enjoyed these bunny pots, for other Easter Ideas, you can see my Easy Easter Egg Wreath and Easter Tablescapes. Oh and don't miss HOW TO MAKE AN OLD PAINT CAN A PLANTER.
Consider subscribing to my weekly newsletter and stay up to date on all things Saved From Salvage.
Enjoy – XO,
Regina
Do you like to change out your front door decor with the seasons? If you are looking for an inexpensive super cute idea, check out my fall door hangers diy I created with decor from the Dollar Tree. Hi, I'm Regina and this is Saved From Salvage. I love to share DIYs, Home Decor Projects, Event…

Welcome to Lately on the Lake, a behind the scenes look into Saved From Salvage. I am sharing what I'm up to, what I'm working on, what I'm loving and what's inspiring me. I'm Regina and this is Saved From Salvage. You can find DIYs, Furniture Flips, Home Decor Projects and Event Inspiration. I'm so…

Do you love the look of copper or verdigris? See how I took these old lanterns that had been kept outdoors and transformed them into these copper patina beauties. Hi, I'm Regina and this is Saved From Salvage, I enjoy sharing DIYs, home decor projects, furniture flips and event inspiration. These red lanterns were my…